Reverend Trini L. Massie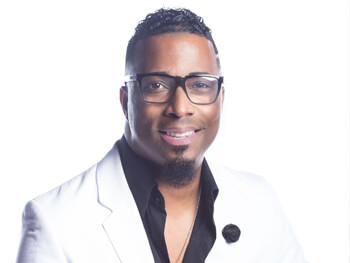 Minister of Worship
"Powerful!!" Countless people who have encountered this young man use this one word to describe his energetic, anointed, and explosive music ministry.
This prolific composer, singer, director, musician, and preacher has captivated audiences all over the globe with his four octave range, dynamic directing prowess, and musical ability. People that have sung under his leadership say, "He just pulls it out of you" and "He makes you want to sing". Destined to be one of Gospel Music's newest Giants, Rev. Trini L. Massie began his musical journey at the very early age of four years old singing with the Kevin Michael Sawyer Memorial Choir. Under the very capable tutelage of Ms. Bertha Hodge and Ms Mary Hall, Trini's musical growth was nurtured and pruned for excellence in music ministry. Being a musical product of the Church of God In Christ and the Baptist Church, Trini is well versed in all facets of sacred music, from anthems to spirituals, traditional gospel, contemporary gospel, praise and worship, and hymns. He believes "A great artist can do it all!" "You have to be prepared for Global Ministry." "The Kingdom is bigger than us!" Thisattitude and his demand for excellence in music ministry and his unrestrained passion for God have caused this young man to be a well sought after workshop clinician, minister of music, lead worshipper, composer, preacher of the gospel and mentor. He has traveled the United States, Canada, Europe, Micronesia, and the Caribbean facilitating workshops and ministering in concerts. Igniting worship fires and passionate worship wherever he goes, young as well as old lives are being changed by the power of God exuding from this Psalter's life.
Influenced greatly in his early years by the music of The     Hawkins, Clark Sisters, Thomas Whitfield, James Cleveland, Mattie Moss Clark, and Richard Smallwood, and later by Donald Lawrence, V. Michael McKay, Ricky Dillard and the late Olando Draper, Rev. Massie is known for his energetic, high octane, commanding directing skills. He has fused pieces of these artists together to come up with a style that is completely his own. Because of his dynamic stage presence and his ability to captivate audiences, Rev. Massie has shared the stage with such music artists as: Tye Tribbett and GA, Ricky Dillard, Kirk Franklin, Karen Clark-Sheard, the late Rev. James Moore, Lecresia Campbell, Jonathan Nelson and Purpose, Shirley Ceasar, Twinkie Clark, Dorinda Clark- Cole, James Hall and Worship & Praise, Youthful Praise, Michael McDonald, Reba McIntyre, and the list goes on and on.
Currently the Minister of Worship at the Mt. Ararat Baptist Church in Pittsburgh, where Rev. Dr. William H. Curtis Senior Pastor, Trini serves full time in ministry. His direct responsibilities are the Young Adult Choir, the Praise and Worship Ministry, and all music of the main sanctuary. Committed to the vision of the Pastor and Minister or Music, he works diligently with both to make sure the dreams for the music ministry are realized. "You have to be submitted to your leaders." "If you help make their dreams come true, God will cause someone else to help make yours come true!" Since being at Ararat, Dr. Curtis ordained Trini as an Elder in the Lord's Church in September 2007. Rev. Massie has also served as the Minister of Music at the North Side Institutional COGIC in ministry partnership with Bishop E. M. Thorpe and Pastor Lola Thorpe, Cornerstone Baptist Church, Deliverance Baptist Church, and the Pentecostal Temple COGIC, at which he helped to build strong music ministries.
Trini is the Founder and Executive Director of 4 The Caz of Christ Ministries & Productions. This is an aggregation of anointed minstrels and singers from the city of Pittsburgh, PA and the surrounding areas. Gearing up for his live Praise and Worship concert, "Praise Uninhibited…Worship Unleashed" , Trini and his production team have been working tirelessly to make sure this musical offering is one that will impact the nations for Christ. A man of vision and dreams, it his goal to start a music conservatory in the city of Pittsburgh that mentors, trains, and equips upcoming musicians, singers, and dancers. It is his desire to see people properly trained for Kingdom Worship Ministry, in order to better serve the body of Christ.
Predestined for Global Ministry, this man of God is well on his way to being long remembered as one of the End Time Davids. For like David, Rev. Trini L. Massie has a desire to touch God and to be touched by Him. You will often hear him say, "If it were possible for God to have a weakness, I would want it to be for me…..He's diligently seeking, searching, and looking for those that will worship Him in Spirit and truth… God LET IT BE ME!!" Once you've experienced this Psalter's anointed, power-packed ministry, you will know that you've encountered someone that walks with God!